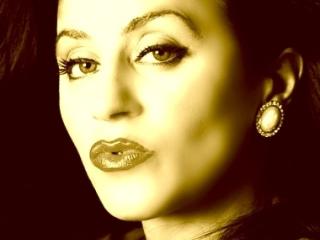 My Fetish: Role play, sole worship, feet worship, rope on.
Webcam profile: My wicked grin will chase your waking cravings. My diminutive stature, porcelain flesh and voluptuous assets demand respect and will bring you to your knees. You will quake with anticipation of what is to come. Many attempt to impress me by prodding themselves farther and farther to the verge of their limits. My beautifully pedicured, lil' size 6 feet command fidelity and adore. I have many stiletto and platform heels (Ultra-kinky and close toe) pantyhose and boots.
Favourite intercourse position: Me on top.
What I do in my first-timer show: I am a very private person, and greatly value yours and my own confidentiality. Trust and discretion is paramount, and not something I take lightly. Do not hope kissing, cuddling, or sexual intimity.
What I don't like: I have no interest in the following: Electro, wrestling/boxing, blackmail, ruby/roman showers, needles, any medical play (to include sounds, etc), guts rubdown, Japanese rope limit bondage, breath play, clyster have fun. Absolutely NO hook-up of ANY nature.